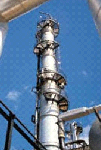 Welcome to HCTS !
HCTS is a brand-independent consultant, specialised in energy-savings, productquality improvement and cost-reduction through the effective use of electrical drives and motors.
On this site you will find more information about our activities !
If you are an enduser, electrical drives should not be your primary concern. After all, they are just a means to establish your goals, such as energy-saving, output increase, productquality improvement and equipment reliability. HCTS advises and supports... Read more...
If you are an equipment supplier of e.g. pumps, fans, extruders, mixers or blowers your core business is the equipment, which you are constantly improving. However, more and more you receive the request to supply frequency converters as well. You could do with some specialised support. Read more...
For a contractor Variable Speed Drives are a challenge, since they are at the intersection of mechanical, electrical, instrumentation and process-control. HCTS is experienced in this multidiscplinary area. Read more...
You are not listed above? Do not worry. Follow the links in the site and discover what HCTS can do for you.
HCTS has a base of more than 10 years experience in the application of frequency converters and electrical drive technology.